Ultrasonic-Spy - voice recorder jammer
Jammer Store Company is a leader of the radio frequencies blocking equipment industry. The quality of all our products is the top priority for us because we are not just dealing those electronic devices but manufacture them. Our devices are meant to satisfy the needs of our customers in the most effective and reliable way and that is why we are constantly improving our products and services. To make sure that you will get effectively working quality product we perform many different tests with our devices.
To get the product you like, you need to make a payment first. The next day after the payment your device will be shipped to you. It takes from 4 to 6 days for your package to reach you, depending on what country you are in. All our shipments are done with DHL – the most reliable delivery operator of the global level. DHL provides not only delivery of your orders in time and undamaged but also has a useful feature of tracking number that you can use to watch the movement of your device via internet. As a rule, we are sending that tracking number to you right after the start of your order shipping.
For you our DHL shipping is always free, no matter it will be local or international delivery. As an additional free service we mark all our shipments with low price tags to avoid any fees at the customs.
For your absolute convenience in our services we also provide a one year warranty on all our products. Such long warranty period is new to the industry and we are proud to be the first company that provides it. If there are any reasons which make you unsatisfied with the product you get – contact us and we will solve the issue, either replacing your device with just the same or making a refund. You can get a refund within 14 days from the moment of your order delivery. Add this to one year warranty and you will see that you can be totally confident in our shipping and returns reliability.
Ultrasonic-Spy is a particular jamming device that is used to secure the tracking of recording devices. It is the best solution for office and business negotiations. The jammer is equipped with special ultrasonic emitters. They affect microphones that record devices, preventing the distribution of sensitive data. Ultrasonic-Spy is entirely silent, so that it can be easily installed in any room.
Scope of use
Ultrasonic-Spy is a device that is used to jam the recording of voice messages and conversations. This device can be easily fixed anywhere. It is almost invisible to outsiders. The main feature is the directional effect of the device.
Equipment features
Hidden installation.
The equipment can be easily fixed under the table so no one will notice it. It won't interfere with the conversation.
One-way recording.
You can record a conversation, but similar actions by outsiders are blocked.
Ultrasonic suppression type.
The kit includes ultrasonic emitters that work at a distance of up to ten meters.
Remote control.
Using the remote control, you can easily set the operating mode at a minimal cost.
Possibility of battery operation.
The device is equipped with a battery designed for two hours of battery life, which allows it to be used on the go.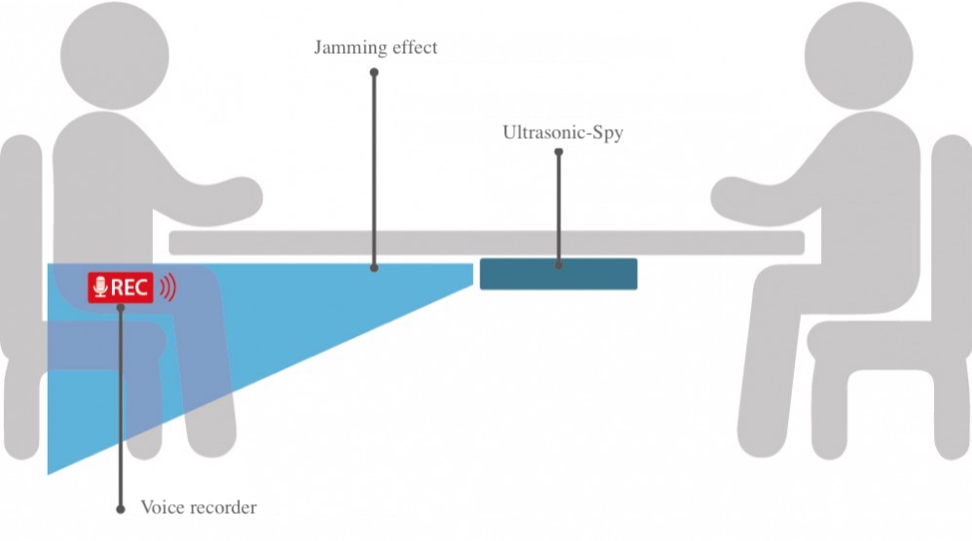 Device specifications:
Ultrasonic emitters in the amount of 24 pcs

The beam angle is 75 degrees

The power supply capacity is 12V

Construction dimensions are 400x100x30 mm
Equipment:
Device included

Power adapter

Instructions for use

Optional battery

Remote control