HS-007 Plus | Portable Signal Detector 20-5000MHz
Manual: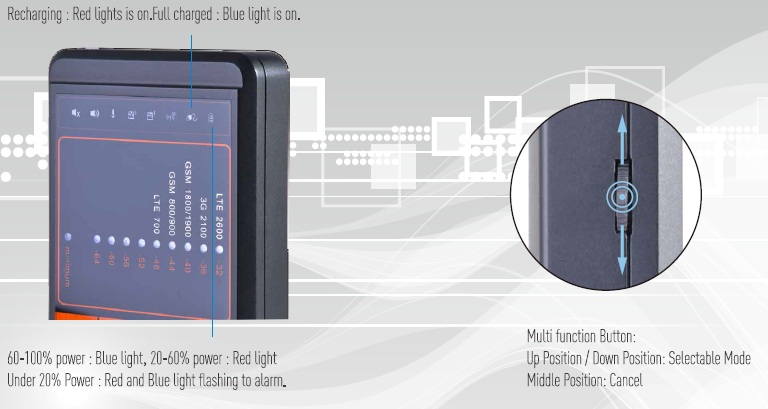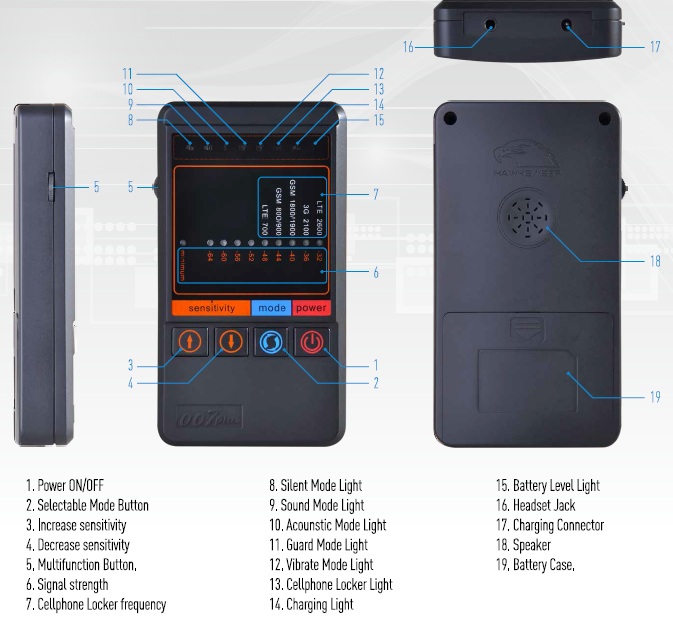 Jammer Store Company is a leader of the radio frequencies blocking equipment industry. The quality of all our products is the top priority for us because we are not just dealing those electronic devices but manufacture them. Our devices are meant to satisfy the needs of our customers in the most effective and reliable way and that is why we are constantly improving our products and services. To make sure that you will get effectively working quality product we perform many different tests with our devices.
To get the product you like, you need to make a payment first. The next day after the payment your device will be shipped to you. It takes from 4 to 6 days for your package to reach you, depending on what country you are in. All our shipments are done with DHL – the most reliable delivery operator of the global level. DHL provides not only delivery of your orders in time and undamaged but also has a useful feature of tracking number that you can use to watch the movement of your device via internet. As a rule, we are sending that tracking number to you right after the start of your order shipping.
For you our DHL shipping is always free, no matter it will be local or international delivery. As an additional free service we mark all our shipments with low price tags to avoid any fees at the customs.
For your absolute convenience in our services we also provide a one year warranty on all our products. Such long warranty period is new to the industry and we are proud to be the first company that provides it. If there are any reasons which make you unsatisfied with the product you get – contact us and we will solve the issue, either replacing your device with just the same or making a refund. You can get a refund within 14 days from the moment of your order delivery. Add this to one year warranty and you will see that you can be totally confident in our shipping and returns reliability.
Listening or spying is a rather unpleasant experience for you and your loved ones. Many scammers have recently been using special listening devices to get their business done. These devices are compact, so they are difficult to notice independently. That is why detecting and blocking such spy devices in time is essential to avoid losing important information.
Ease of use
The HS-007 Plus is a state-of-the-art tracking signal detector that works with high accuracy. This is a handheld sniffer that monitors many types of signals. Among the main features that should be highlighted is the ease of management. The LED screen displays all the information, and the operating parameters can be set using the buttons. Even beginners can easily use the device. The front panel has control buttons for turning on, selecting the active mode, and increasing or decreasing the recognition sensitivity.
Operating modes:
HS-007 Plus has several modes of operation, among which are the following:
Silence mode. It can quickly recognize analog or digital signals.

Sound mode. It may differ depending on the selected RF signal type.

Acoustic mode. It can quickly identify analog signal sources by changing incoming signals to audio. For example, this can be compared to the noise of a mobile phone.

Security mode. With it, you can easily track any changes in nearby signals.

Vibration mode. This mode helps to track all signals almost imperceptibly to others due to vibration.

Mobile phone lock mode. This option can be used during negotiations. With it, you can block up to five different frequencies.
What are the advantages of the HS-007 Plus detector?
This device has many advantages, including:

Ability to jam standard phone signals

Signal detection up to 70 dBm

The wide frequency adjustment range for detection

Optimum compact design

Multiple working modes

Built-in lithium battery

There are many different operating modes for customization

Built-in indicators and speakers
HS-007 Plus is multifunctional equipment that will protect your privacy.