RCJ40-D Adjustable Powerful Desktop Mobile Jammer
Should you require a fully bespoke configuration for this jammer please contact us at
[email protected]
You can place an order using the most popular configurations or RCJ40-D jammer. However, for some extra cost and time we can prepare the fully bespoke version for you.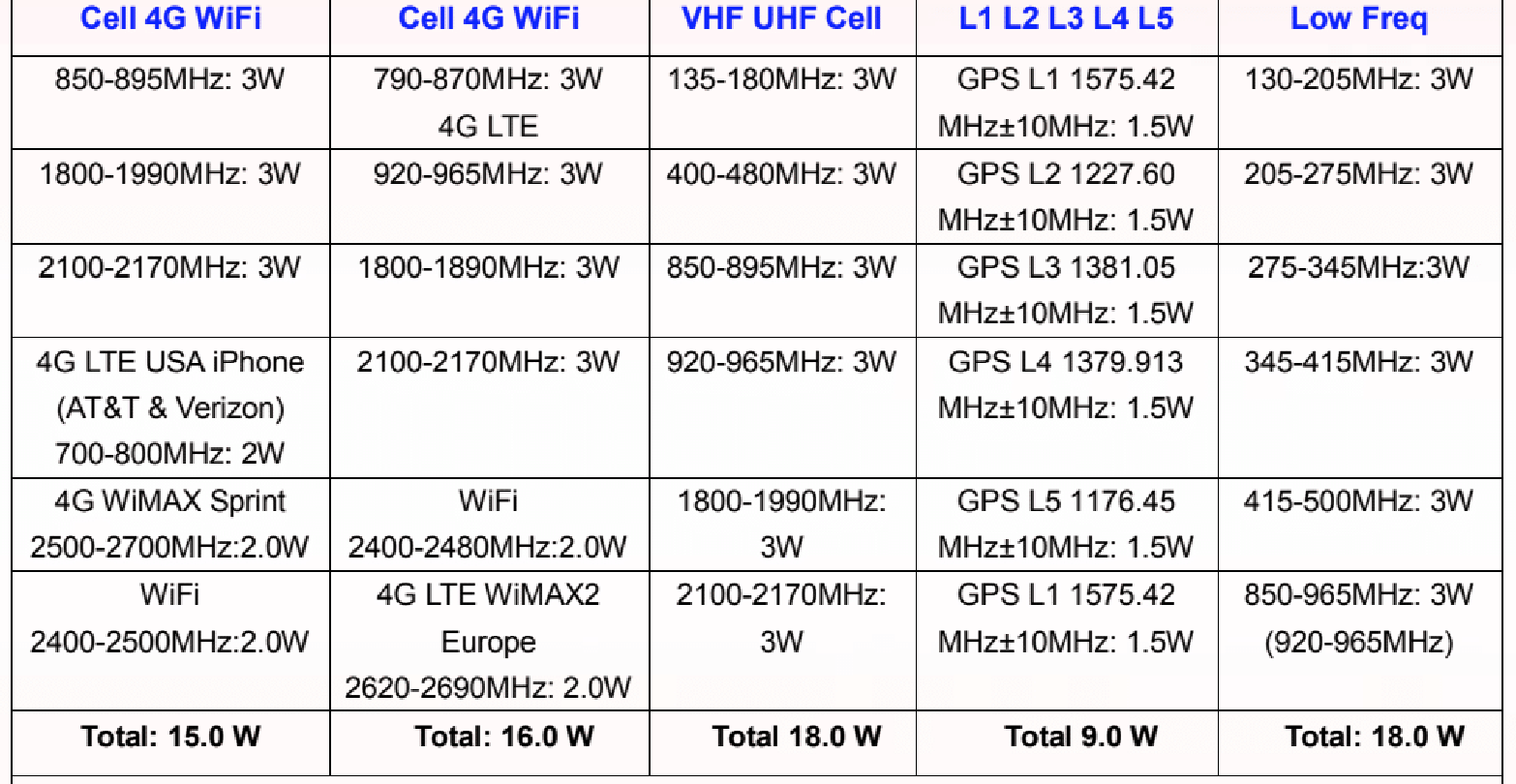 Jammer Store Company is a leader of the radio frequencies blocking equipment industry. The quality of all our products is the top priority for us because we are not just dealing those electronic devices but manufacture them. Our devices are meant to satisfy the needs of our customers in the most effective and reliable way and that is why we are constantly improving our products and services. To make sure that you will get effectively working quality product we perform many different tests with our devices.
To get the product you like, you need to make a payment first. The next day after the payment your device will be shipped to you. It takes from 4 to 6 days for your package to reach you, depending on what country you are in. All our shipments are done with DHL – the most reliable delivery operator of the global level. DHL provides not only delivery of your orders in time and undamaged but also has a useful feature of tracking number that you can use to watch the movement of your device via internet. As a rule, we are sending that tracking number to you right after the start of your order shipping.
For you our DHL shipping is always free, no matter it will be local or international delivery. As an additional free service we mark all our shipments with low price tags to avoid any fees at the customs.
For your absolute convenience in our services we also provide a one year warranty on all our products. Such long warranty period is new to the industry and we are proud to be the first company that provides it. If there are any reasons which make you unsatisfied with the product you get – contact us and we will solve the issue, either replacing your device with just the same or making a refund. You can get a refund within 14 days from the moment of your order delivery. Add this to one year warranty and you will see that you can be totally confident in our shipping and returns reliability.
RCJ40-D is a modern desktop jammer that supports different standards for jamming 4G mobile internet signals. The device operates within a radius of up to 40 meters. This device can block all 4G signals regardless of frequency or operator. It is enough to specify the parameters of the equipment operation. The complete list of frequencies is described in the equipment specification.
The RCJ40-D can be used to control a car charger. It can also be charged via a 12 V power adapter. Additionally, you can use the built-in battery, designed for two hours of continuous operation.
The RCJ40-D is a modern and powerful jammer model that deserves attention. It is suitable for blocking multiple signals over a long distance. This device can be used to block low-frequency signals. You choose the signals you want to stop. It is enough to specify the required parameters. Also, our specialists can advise you and help you determine the desired properties.
The RCJ40-D jammer is usually installed in large homes or offices to ensure maximum network security. As a result, all signals will be blocked within a radius of up to forty meters. You can also adjust the power using the control system. This is a helpful device for your safety.
The device operates at the following frequencies:
Remote controls
Low frequencies
satellite signals
Wireless cameras
Satellite phones
Mobile Signals
You yourself can choose the frequencies that should be blocked. You should choose carefully as only six of the listed frequencies can be blocked at a time.
Device specifications:
Powerful system
Built-in battery and easy charging
Wide range of influence
Many different frequencies to block
Has color marks
overheat protection
The ability to adjust the frequency ranges independently
Device characteristics:
Wide range of supported frequencies
High power 9-18W
Range up to 49 meters
Powered by a charger or car adapter
Working current is 12A
The battery is rated at 12000 mA
Size is 200x165x60mm
The device's weight reaches 1.8 kilograms, with packaging - 2.8 kilograms.
The working temperature is 0-50 degrees
Air humidity is 5-80%
The device allows you to protect yourself from such technologies and devices fully:
Desk phone trackers
Sports, monitoring cameras
Wireless technology and more
Related Products