RCJ40-D Adjustable Powerful Desktop Mobile Jammer
Should you require a fully bespoke configuration for this jammer please contact us at
[email protected]
You can place an order using the most popular configurations or RCJ40-D jammer. However, for some extra cost and time we can prepare the fully bespoke version for you.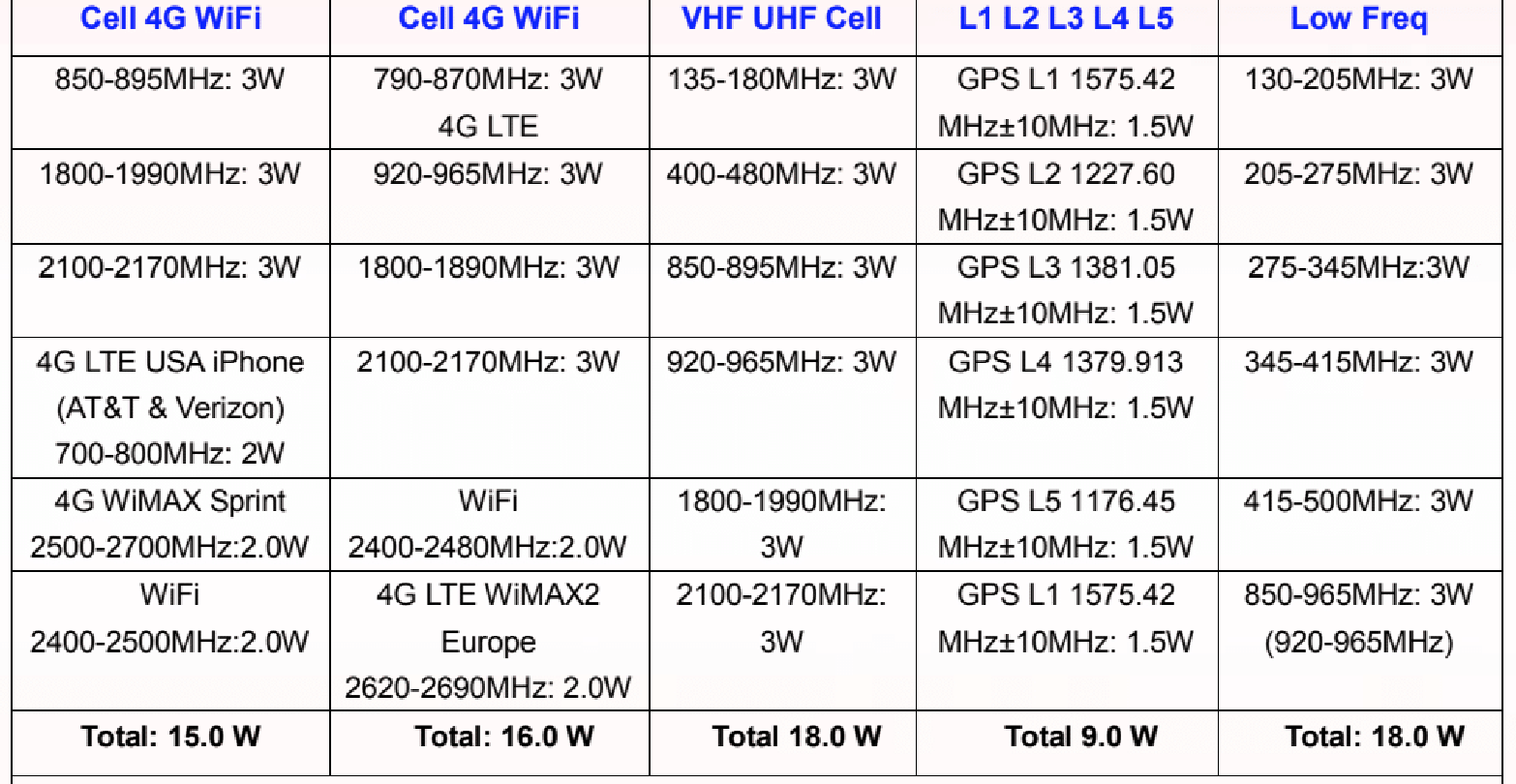 Jammer Store Company is a leader of the radio frequencies blocking equipment industry. The quality of all our products is the top priority for us because we are not just dealing those electronic devices but manufacture them. Our devices are meant to satisfy the needs of our customers in the most effective and reliable way and that is why we are constantly improving our products and services. To make sure that you will get effectively working quality product we perform many different tests with our devices.
To get the product you like, you need to make a payment first. The next day after the payment your device will be shipped to you. It takes from 4 to 6 days for your package to reach you, depending on what country you are in. All our shipments are done with DHL – the most reliable delivery operator of the global level. DHL provides not only delivery of your orders in time and undamaged but also has a useful feature of tracking number that you can use to watch the movement of your device via internet. As a rule, we are sending that tracking number to you right after the start of your order shipping.
For you our DHL shipping is always free, no matter it will be local or international delivery. As an additional free service we mark all our shipments with low price tags to avoid any fees at the customs.
For your absolute convenience in our services we also provide a one year warranty on all our products. Such long warranty period is new to the industry and we are proud to be the first company that provides it. If there are any reasons which make you unsatisfied with the product you get – contact us and we will solve the issue, either replacing your device with just the same or making a refund. You can get a refund within 14 days from the moment of your order delivery. Add this to one year warranty and you will see that you can be totally confident in our shipping and returns reliability.
Please note! RCJ40-D desktop jammer now supports 4G. From now you will be able to block all mobile internet users in 40 meters (130 feet) radius! That device will block all 4G connections, no matter which provider it is! Additionally to the frequencies provided in the Configuration box you can choose/mix up to 6 different frequencies. The whole list of frequencies that RCJ40-D is able to jam you can find below.

This jammer can be operated through the AC 110-240V or DC 12V car charger. For extra fee you can purchase a device with built in battery. The battery usage time is up to 2 hours.

RCJ40-D adjustable desktop cell jammer is the latest model of our powerful products used to secure the perimeter of large buildings. The range of frequencies it works with is spectacular because when this device is turned on all popular frequency bands stop their work, even part of the low frequency spectrum. Moreover, you can decide what frequencies you need to block before you make an order for our technicians be able to tune your product according to your wishes.

As a rule, RCJ40-D strong cell phone signal jammer is installed inside the offices, houses or any other large buildings to organize wireless safety. When it works, all bands which you selected will not work in its operating radius of 40 meters. In addition you can adjust the output power of your device to prevent interference with other buildings around if there is such necessity. As you can see, this device is flexible in relation to the working range of its signal and this might be handy in organizing your wireless safety more precisely.

Frequency bands RCJ40-D mobile phone jammer can work with:

CDMA450
GPS L1, L2, L3, L4, L5
Lojack (173Mhz)
Wi-Fi/Bluetooth
2.4Ghz wireless camera
3G
4G Wimax/ 4G LTE
CDMA800
GSM 850
GSM1900
GSM900
GSM1800
Remote controls (315Mhz, 433Mhz, 868Mhz)
SAT Sattellite Phones 1520-1670MHz
UHF(420-480Mhz) and VHF(130-180Mhz)
Low frequencies: 130-205MHz, 205-275MHz, 275-345MHz,345-415MHz, 425-500MHz, 850-965MHz

The decision on what frequency bands from those listed up there to select is totally yours. You must choose carefully because once the working frequencies for your device are chosen, you can never change them. You can mix up to 6 different frequencies for 1 unit.

Features:

Powerful output
Built in battery and 12V car charger is available for extra fee
Widest frequency range
Large jamming radius
Color labels for antennas and their slots
Full adjustability of all 6 bands
Reliable heat sink against overheating

Specifications:

Frequencies Supported: CDMA450 (part of UHF), CDMA800 (GSM850), GSM900, GSM1800 and 1900 (PHS and DCS), GPS (L1, L2, L3, L4, L5 bands), Wi-Fi and Bluetooth, 3G and 4G WiMax and 4G LTE (725-770 and 2345-2400 MHz), Satellite phones, Remote Controls, LoJack
Output Power: from 9 to 18W (depends on chosen configuration)
Operating Range: 20-40 meters radius
Power Supply: AC power adapter or Built in battery + car charger (+$150)
Operating Current: 12A
Adapter Data: AC 110V~240V DC 5V, 12000mA
Antennas Parameters: SMA 3db
Product Size: 200x165x60 mm
Device Weight: 1.8kg / 2.8kg (device / full package)
Temperature Of Air: 0C to 50C
Humidity Of Air: 5% to 80%

Using RCJ40-D you will be absolutely safeguarded against:
GoBandit Live camera
Navizon Indoor Triangulation System
CalAmp LMU-2600
TP-LINK Mini Pocket Router
F-BOMB
Wolfhound cell phone trackers
Glympse
FinFisher FinSpy Mobile
Oregon Scientific ATC Beats WiFi Sports camera
HawkEye 5300
Sony SmartWatch
Verint Analytics And Communications Solutions
Dropcam HD WiFi monitoring camera
Electric Imp
PlayRobot
Transparency Grenade
EyeRing
Eye-Fi
Lytro camera
Spektrum DSM
Spektrum DSM2
FreedomPop
Utimaco DRS
Google Wi-Spy
Amped Wireless High Power Wireless-N 600mW Pro Smart Repeater
Brookstone Rover Spy Tank
Pebble and Twine
Scan & Target Scan Surveillance
Samsung DV300F
Draganflyer X6
GoPro WiFi BacPac and Remote
WiFi Hotspot Cufflinks
Trendnet web cameras
Internet Of Things
Packet Forensics
FleetMatics
Parrot AR.Drone 2.0
Stingray
Stingray II
TELEMATICS
Pong Research Case
Motorola PDA MC-75
Telesoft Technologies HINTON Abis Probe
Bluetooth SIG
Cambridge Consultants small cell tower
Rosum ALLOY
Blackline GPS Javelin
Broadcom BCM4752
Elusiv Tracking Systems
Mushroom Networks ThirdEye
TV White Space
Sprint 3G/4G Plug-in-connect
Texas Instruments WiLink 8.0
RF Design u-blox

and many other devices and technologies...

Related Products