JF100 Wall mounted meeting room jammer
Should you require a fully bespoke configuration for this jammer please contact us at
[email protected]
Please choose the configuration of JF100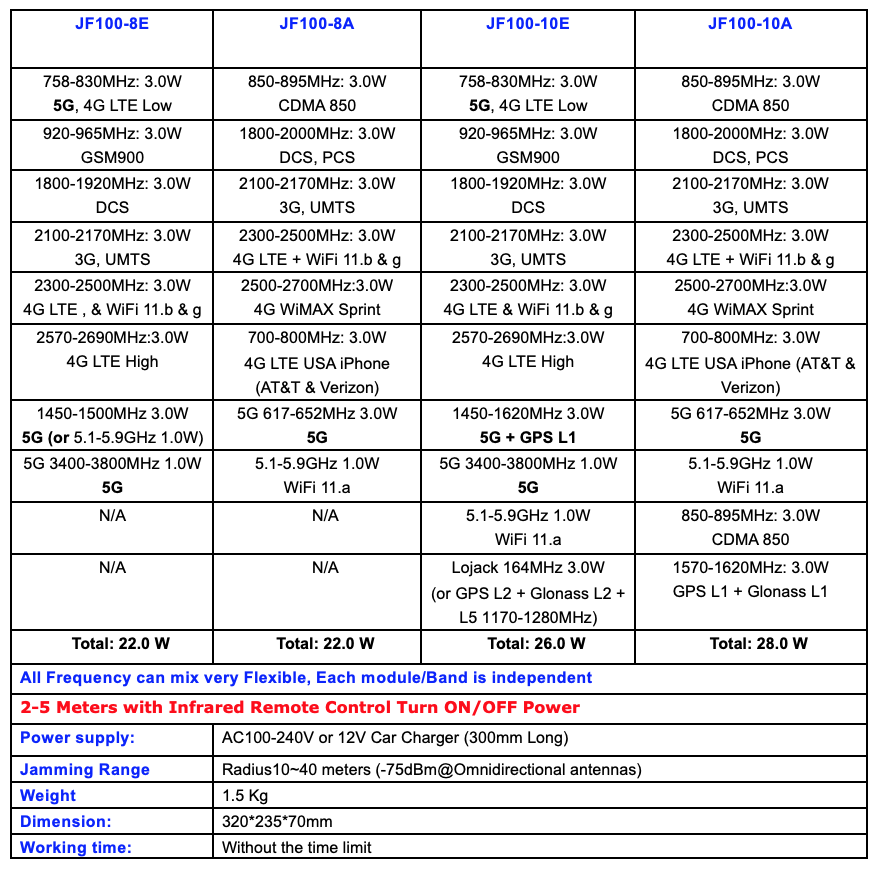 Jammer Store is a superintendent in the different signals frequency-blocking supplies enterprise. Our highest importance is the rate of all our creations because we deal with and fabricate contemporary appliances. Our machines are suggested to fulfill the requirements of our clients most honestly and reliably, which is why we are continuously enhancing our outcomes and assistance. We conduct numerous trials with our appliances to ensure that you get an effective working-rate development.
To get the outcome you want, you need to pay the best. Your machine will be sent to you the following daylight after the direction. Relying upon your homeland, it takes 4 to 6 days for your package to reach you. All our payloads are created with DHL – the considerably dedicated delivery service at the international status. DHL supplies not only deliver your charges on term and intact but even has a valuable component of the search numeral that you can employ to watch the movement of your device through the web. As a rule, we are shipping that search numeral to you straight after the beginning of your charge shipping.
For you, our DHL shipping is consistently complimentary, no matter whether it will be a regional or multinational service. As an added free assistance, we mark all our payloads with low price tags to avoid any fees at businesses.
We also supply a one-year guarantee on all our derivatives for your comfort in our assistance. Such a broad guarantee term is new to the industry, and we are proud to be the first organization that supplies it. If any causes make you unsatisfied with the outcome you receive – text or call us, and we will help you with this problem, either returning your appliance with just the same or completing a repayment. You can obtain a refund within 14 days of your immediate delivery. Count this to one year warranty, and you will notice that you can be sure of our shipping and returns dependability.
The JF100 is a wall-mounted jammer that operates over a wide range. This device can be easily installed at home or in the office. Due to its versatility, this device can be used by teachers to protect the confidentiality of information during exams and help students learn. The mobile phone jammer operates on standard 3G, 4G, WIFI/Bluetooth, and many other frequencies, meeting all requirements. This device can be adapted to work in different countries, depending on the communication standards in the region.
The JF100 can be wall mounted or placed on any work surface. The range of influence in each case is the same. Also, the device is equipped with a cooling system to avoid overheating. The equipment can work around the clock.
Device specifications:
Silencers can be used continuously

The radius of influence reaches 100 meters

The plastic panel closes the functional part

Fans included protecting against overheating

The device is universal so that it can be used in the office, home, and school.
Silencer characteristics:
8 or 10 built-in antennas

Internal directional antenna

220V power supply

The radius of influence reaches 100 meters

Ability to jam common types of wireless signals

Signal power is 28W

The weight of the structure is 1.5 kilograms

Construction dimensions are 320 * 235 * 70 mm
Related Products