PRO45 High power mobile phone jammer (135W)
Should you require a fully bespoke configuration for this jammer please contact us at
[email protected]
Power supply: AC110 or 220-240V /DC 27V
Jamming Range: Radius 50~150 meters ([email protected] antennas)
Weight: 10Kg
Dimensions: 460 x 235 x 95mm
Working time: Without the time limit when connected to power supply
Antennas: External Omni 500mm long or Directional Patch Panel Antennas
Warranty: 1 year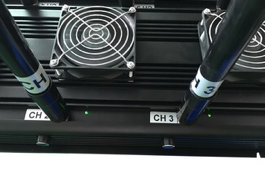 Adjustable Output Power each Band, LED for each band ON/OFF
Jammer Store Company is a leader of the radio frequencies blocking equipment industry. The quality of all our products is the top priority for us because we are not just dealing those electronic devices but manufacture them. Our devices are meant to satisfy the needs of our customers in the most effective and reliable way and that is why we are constantly improving our products and services. To make sure that you will get effectively working quality product we perform many different tests with our devices.
To get the product you like, you need to make a payment first. The next day after the payment your device will be shipped to you. It takes from 4 to 6 days for your package to reach you, depending on what country you are in. All our shipments are done with DHL – the most reliable delivery operator of the global level. DHL provides not only delivery of your orders in time and undamaged but also has a useful feature of tracking number that you can use to watch the movement of your device via internet. As a rule, we are sending that tracking number to you right after the start of your order shipping.
For you our DHL shipping is always free, no matter it will be local or international delivery. As an additional free service we mark all our shipments with low price tags to avoid any fees at the customs.
For your absolute convenience in our services we also provide a one year warranty on all our products. Such long warranty period is new to the industry and we are proud to be the first company that provides it. If there are any reasons which make you unsatisfied with the product you get – contact us and we will solve the issue, either replacing your device with just the same or making a refund. You can get a refund within 14 days from the moment of your order delivery. Add this to one year warranty and you will see that you can be totally confident in our shipping and returns reliability.
PRO-45 is one of the most powerful cell phone jammers which are currently presented on the market. With 135W of output power this blocker is able to disable all GSM, 3G, CDMA, 4G, GPS, Lojack, WIFI, GPS etc. frequencies in the radius up to 150 meters. It mainly used for the areas where the wide radius needs to be protected against usage of mobile phones.

It can be used indoors, for example to block the cell phone signal in the churches, museums, movie theatres and other crowded places where the usage of mobile phone is prohibited. You can also use this jammer during the important conference in a meeting room to avoid the leakage of secure information. This unit will be irreplaceable in places where it is extremely important to keep the silence – in classrooms during the exams, courts, hospitals, banks, recording studios etc.

If you want to disable the usage of mobile phones outdoors this jammer will be the perfect solution as well. We have a lot of customers worldwide who are looking for the best jamming solution to use it in prisons, customs, and military units, for border control and drug enforcement – PRO-45 is the right choice for these purposes.

This unit can be also used to protect your vehicle or convoy. With the unique set of antennas which can be chosen during the checkout process, you will be able to take out these antennas and put them outside of your car or escort car thus increase the jamming radius.
Technical specifications

Jamming frequencies: IDEN/Nextel/CDMA850-894MHz; GSM900:925-960 MHz; PCS/GSM1900: 1805-19900MHz; 3G/UMTS: 2110-2170MHz
Additional options: GPS L2 L3 L4 L5: 15W, VHF 130-180MHz: 20W, 300-400MHz: 20W, UHF 420-480MHz: 20W, 4G 2620-2690MHz: 20W, LoJack 173MHz: 30W, 4G LTE USA Iphone 700-800MHz: 15W
Jamming radius: up to 150 meters
Total output power: Between 130W - 165W depending on the chosen configuration
2 types of antennas: omnidirectional or directional
Power supply: AC110 or 220-240V /DC 27V
Device size: 460 x 235 x 95mm
Device weight: 10 KG
Please note: The frequencies may vary in different countries but we will make sure that the jammer is manufactured based on the specifications of frequencies in your country.

Product features:

Continuous operation 24/7 even during the hot/cold weather, no time limit
Fast and easy installation and operation
Can be configured to jam frequencies in any country
Secure design to avoid sabotage
The UPS battery can be used together with the unit
(VSWR) circuit protection to avoid system burn, antenna short circuiting or disconnection
Related Products