Cell phone jammers and signal blockers in Netherlands
Netherlands use three cellular frequency bands as their main ones: GSM900, GSM1800 (DCS) and UMTS. The first two are used by major mobile phone providers of the Netherlands as the primary frequency bands for Netherland citizens to make calls, send text messages, etc. The UMTS frequency band is used to perform 3G services across the country. To provide 4G broadband mobile network services to their customers, all three major Netherlands mobile service providers have purchased licenses in 2600MHz band in 2010, so Netherlands 4G connections use this band nowadays. And now let's look at three main Netherlands mobile communication service providers.
KPN
KPN is a huge telecommunication company of Netherlands. They own the biggest mobile network operator of the Netherlands – KPN Mobile, and few other brands like Telfort which also provide mobile communication services. Among them are also mobile virtual network operators Simyo, Hi, Ay Yildiz and Ortel Mobile.
KPN uses GSM900 and GSM1800 (DCS) frequency bands to provide mobile phone communications. They also provide wireless internet access through their companies XS4ALL, KPN Internet and Telfort, providing Wi-Fi access to the people of Netherlands.
T-Mobile Netherlands
Sometimes shortened to T-Mobile NL, it is a second largest mobile communication provider of the Netherlands. This company uses GSM1800 as their main frequency band for communications. In 2010 T-Mobile Netherlands had some problems with 3G capacity, but after investing in the network modernization they have managed to deal with this problem. So now they provide 3G services using 2100MHz band, though they cannot overcome KPN in terms of customers due to the capacity lack.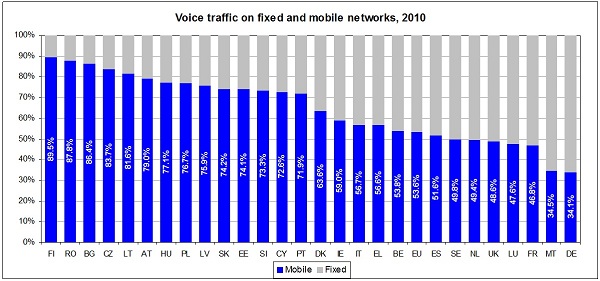 Vodafone Netherlands
This company is the third one among major Netherlands mobile communication operators. It was previously known as Libertel. Vodafone Netherlands uses GSM900 and GSM1800 frequency bands to provide mobile phone services. In addition they provide their customers with such connections as GPRS, UMTS, HSDPA and HSPA+. The last two are technologies used in 3G communications to increase their upload and download speed to higher amounts. All 3G services provided by Vodafone Netherlands use 2100MHz band in their work. This company is also the first mobile service operator that launched UMTS network in Netherlands.
Summary
Netherlands have three main mobile phone operators and other communication service providers – KPN, T-Mobile Netherlands and Vodafone Netherlands. They use GSM900 and GSM1800 frequency bands to provide mobile phone communications to their subscribers and 2100MHz band as the main frequency range for 3G services. There also advanced wireless internet access across the country with Wi-Fi and UMTS networks and such technologies like HSDPA and HSPA+.
Netherlands have also 4G network within 2600MHz band, provided by all three main wireless communication companies of the country. Despite there are many smaller mobile communication brands in Netherlands, they are owned by one or another among the three primary ones. GSM1800 frequency band, used in Netherlands, is also called DCS, or Digital Cellular Service, though it is a European name for that frequency range, because in Hong Kong it is called PCS, while in USA PCS is the name of GSM1900 band.