GP5000 Car Anti-Tracking GPS Blocker, Navigation jammer
GP5000 is able to jam some GPS L1 frequencies but it won't be able to jam some more advanced tracking technologies, devices etc. If you need a full protection against absolutely all civil GPS frequencies and LoJack please purchase our GJ6 jammer.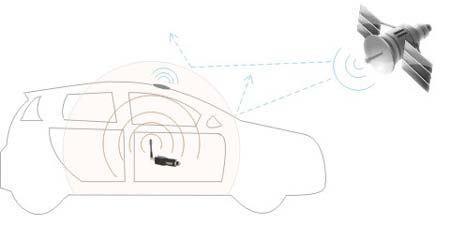 Jammer Store Company is a leader of the radio frequencies blocking equipment industry. The quality of all our products is the top priority for us because we are not just dealing those electronic devices but manufacture them. Our devices are meant to satisfy the needs of our customers in the most effective and reliable way and that is why we are constantly improving our products and services. To make sure that you will get effectively working quality product we perform many different tests with our devices.
To get the product you like, you need to make a payment first. The next day after the payment your device will be shipped to you. It takes from 4 to 6 days for your package to reach you, depending on what country you are in. All our shipments are done with DHL – the most reliable delivery operator of the global level. DHL provides not only delivery of your orders in time and undamaged but also has a useful feature of tracking number that you can use to watch the movement of your device via internet. As a rule, we are sending that tracking number to you right after the start of your order shipping.
For you our DHL shipping is always free, no matter it will be local or international delivery. As an additional free service we mark all our shipments with low price tags to avoid any fees at the customs.
For your absolute convenience in our services we also provide a one year warranty on all our products. Such long warranty period is new to the industry and we are proud to be the first company that provides it. If there are any reasons which make you unsatisfied with the product you get – contact us and we will solve the issue, either replacing your device with just the same or making a refund. You can get a refund within 14 days from the moment of your order delivery. Add this to one year warranty and you will see that you can be totally confident in our shipping and returns reliability.
GP5000 is a special car jammer. This device has been specially designed to be compact so that truck drivers can use it. They can now turn off GPS tracking devices to keep personal data safe from employers. Jammer GP5000 will help solve the problem of privacy once and for all. Any driver who cares about their privacy can use the device.
The GP5000 is a small device you can easily plug into your car. For charging, it is enough to use a car battery. This device has high power and a relatively small range so as not to harm surrounding drivers or city tracking devices that use GPS navigation. We have developed valuable and modern equipment you can regularly use to protect your data.
Silencer features:
Work with power supplies for 12-24 V

Small size

Wide range of action

Impact radius up to 5 meters

There is a working indicator

No built-in battery

It has an external antenna
Device specifications:
The working frequency is GPS within 24-1575MHz

Power is 21 dBm

The coverage area is 5 meters

A car smoking room is used for food

Working current reaches 100mA

Built-in antenna rated at 3dB

Dimensions reach 80x21x21 mm

Weight reaches 35 grams

The temperature is 0-50 degrees

Air humidity reaches 5-80%
The device completely silences:
OnStar Family Link

Verizon Fleet Administrator

Track What Matters
The device partially blocks:
Related Products