GP5000 Car Anti-Tracking GPS Blocker, Navigation jammer
GP5000 is able to jam some GPS L1 frequencies but it won't be able to jam some more advanced tracking technologies, devices etc. If you need a full protection against absolutely all civil GPS frequencies and LoJack please purchase our GJ6 jammer.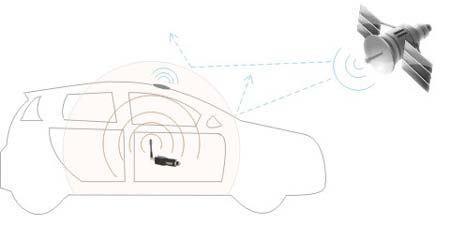 Jammer Store Company is a leader of the radio frequencies blocking equipment industry. The quality of all our products is the top priority for us because we are not just dealing those electronic devices but manufacture them. Our devices are meant to satisfy the needs of our customers in the most effective and reliable way and that is why we are constantly improving our products and services. To make sure that you will get effectively working quality product we perform many different tests with our devices.
To get the product you like, you need to make a payment first. The next day after the payment your device will be shipped to you. It takes from 4 to 6 days for your package to reach you, depending on what country you are in. All our shipments are done with DHL – the most reliable delivery operator of the global level. DHL provides not only delivery of your orders in time and undamaged but also has a useful feature of tracking number that you can use to watch the movement of your device via internet. As a rule, we are sending that tracking number to you right after the start of your order shipping.
For you our DHL shipping is always free, no matter it will be local or international delivery. As an additional free service we mark all our shipments with low price tags to avoid any fees at the customs.
For your absolute convenience in our services we also provide a one year warranty on all our products. Such long warranty period is new to the industry and we are proud to be the first company that provides it. If there are any reasons which make you unsatisfied with the product you get – contact us and we will solve the issue, either replacing your device with just the same or making a refund. You can get a refund within 14 days from the moment of your order delivery. Add this to one year warranty and you will see that you can be totally confident in our shipping and returns reliability.
GP5000 is our special car GPS jammer. We designed this small yet very handy device in order to help millions of truck drivers around the world who suffer from GPS tracking placed in their 18-wheelers by their employers and who think that their privacy rights are violated in this way. Of course, GP5000 tracking jammer is meant to help all those guys to regain their privacy once and for all. But they are not the only ones who drive vehicles on this planet, right? So any driver willing to protect him or her can use this product to do that.
GP5000 ani-tracking device is a very small device that needs to be plugged into electric lighter of your vehicle to use the accumulator of your car as the source of power. This product has low operating power and little working radius to prevent interfering with other cars or important city systems which rely on GPS navigation. In that way we tried to make this device equally useful and safe to use. Although this navigation jammer cannot block advanced types of tracking devices, it can easily deal with all commonly used GPS trackers and grant you the privacy you eager for.
Features:
12V and 24V power supply support
Small size and weight
Tuned against GPS L1 band
Works within 5 meters radius
Has two fuses
Has working state indicator
Works without battery
External anti-GPS antenna
Specifications:
Operating Frequency: GPS L1 band (1575.42MHz)
Working Power: 21dbm
Jammed Area: 1-5 meters radius
Signal Source: PLL
Power Supply: Car cigarette lighter (12V/24V)
Operating Current: 100mA
Integrated Antenna: 1 x 3db, omnidirectional
Size Information: 80x21x21mm
Weight Data: 35g/50g (jammer/package)
Temperature Regime: 0C~50C degrees
Outer Air Humidity: 5%~80%
GP5000 can completely jam:
Verizon Fleet Administrator
OnStar Family Link
Track What Matters
GP5000 can partially jam:
Related Products