Drone Killer 6 - Powerful UAV (GPS WIFI 5GHz) jammer - 120Watt
Should you require a fully bespoke configuration for this jammer please contact us at
[email protected]
Each frequency can be manually adjusted and switched off if needed.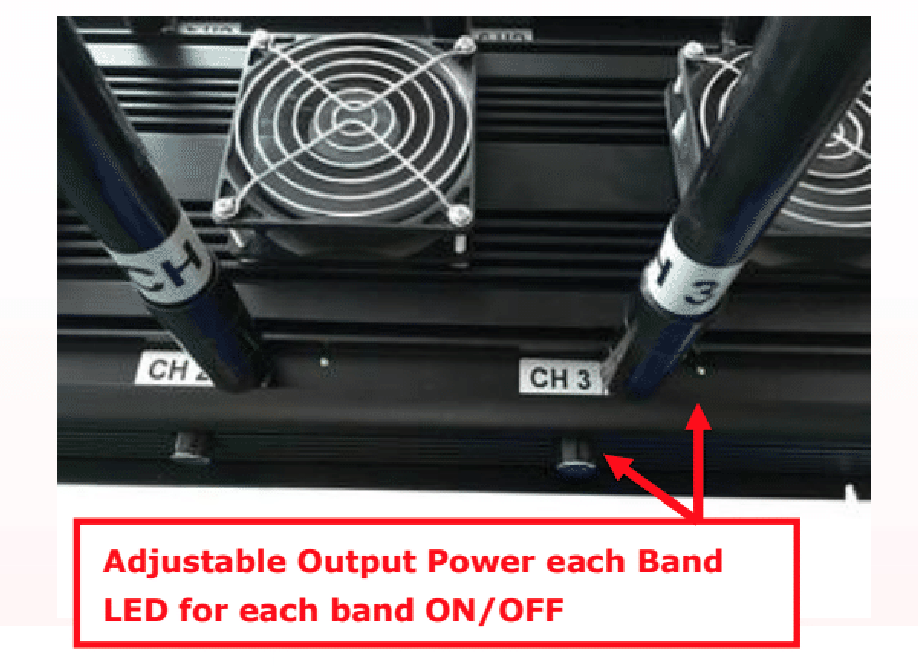 Jammer Store Company is a leader of the radio frequencies blocking equipment industry. The quality of all our products is the top priority for us because we are not just dealing those electronic devices but manufacture them. Our devices are meant to satisfy the needs of our customers in the most effective and reliable way and that is why we are constantly improving our products and services. To make sure that you will get effectively working quality product we perform many different tests with our devices.
To get the product you like, you need to make a payment first. The next day after the payment your device will be shipped to you. It takes from 4 to 6 days for your package to reach you, depending on what country you are in. All our shipments are done with DHL – the most reliable delivery operator of the global level. DHL provides not only delivery of your orders in time and undamaged but also has a useful feature of tracking number that you can use to watch the movement of your device via internet. As a rule, we are sending that tracking number to you right after the start of your order shipping.
For you our DHL shipping is always free, no matter it will be local or international delivery. As an additional free service we mark all our shipments with low price tags to avoid any fees at the customs.
For your absolute convenience in our services we also provide a one year warranty on all our products. Such long warranty period is new to the industry and we are proud to be the first company that provides it. If there are any reasons which make you unsatisfied with the product you get – contact us and we will solve the issue, either replacing your device with just the same or making a refund. You can get a refund within 14 days from the moment of your order delivery. Add this to one year warranty and you will see that you can be totally confident in our shipping and returns reliability.
Drone Killer 6 is a jammer that is used to block drones. We have done everything possible so that you can be sure of 100% blocking aircraft and drones.
The device operates in the range of 433-5800 MHz.
We can customize the jammer to your requirements by increasing the jamming range.
The total jamming power is 120-130 W, which allows you to reach 600 meters.
The power can be adjusted manually with a switch.
*Please note that we do our best to provide quality customer service. We are always ready to adapt the device to your requirements. We can help you increase the strength of specific signals or remove others. Send all inquiries individually.
Additionally, the device can operate at GPS frequencies L2 L3 L4 L5: 15W, VHF 130-180MHz: 20W, 300-400MHz: 20W, UHF 420-480MHz: 20W, LoJack 173MHz: 30W.
Device specifications:
Range up to 600 meters
Power reaches 130W
The device has extensive jamming
There is a built-in overheating protection system
The power adapter is used as a power source
Weight is 10 kilograms
Dimensions are 550 x 190 x 60 mm
The kit includes:
Jammer
Power adapter and power supply
Six antennas
Additional antenna parameters:
- Car antennas
- Directional external antennas
Additional options on request:
- External battery, designed for an hour of battery life, and charger
- Inverter for car battery
The device can block such drones:
Drone with camera
Racing drones
Toy drones
Related Products