Drone Killer 6 - Powerful UAV (GPS WIFI 5GHz) jammer - 120Watt
Should you require a fully bespoke configuration for this jammer please contact us at
[email protected]
Each frequency can be manually adjusted and switched off if needed.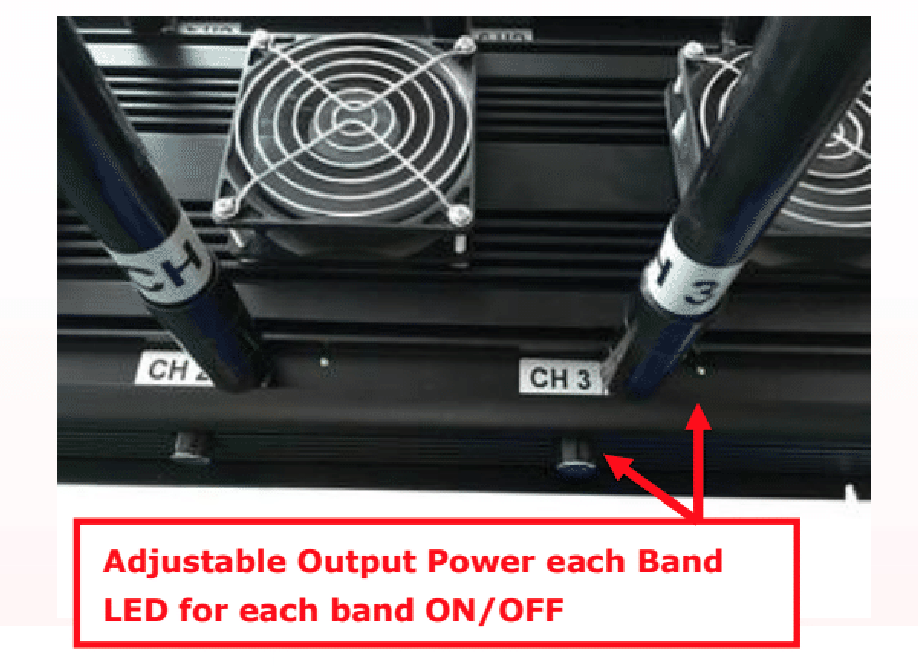 Jammer Store Company is a leader of the radio frequencies blocking equipment industry. The quality of all our products is the top priority for us because we are not just dealing those electronic devices but manufacture them. Our devices are meant to satisfy the needs of our customers in the most effective and reliable way and that is why we are constantly improving our products and services. To make sure that you will get effectively working quality product we perform many different tests with our devices.
To get the product you like, you need to make a payment first. The next day after the payment your device will be shipped to you. It takes from 4 to 6 days for your package to reach you, depending on what country you are in. All our shipments are done with DHL – the most reliable delivery operator of the global level. DHL provides not only delivery of your orders in time and undamaged but also has a useful feature of tracking number that you can use to watch the movement of your device via internet. As a rule, we are sending that tracking number to you right after the start of your order shipping.
For you our DHL shipping is always free, no matter it will be local or international delivery. As an additional free service we mark all our shipments with low price tags to avoid any fees at the customs.
For your absolute convenience in our services we also provide a one year warranty on all our products. Such long warranty period is new to the industry and we are proud to be the first company that provides it. If there are any reasons which make you unsatisfied with the product you get – contact us and we will solve the issue, either replacing your device with just the same or making a refund. You can get a refund within 14 days from the moment of your order delivery. Add this to one year warranty and you will see that you can be totally confident in our shipping and returns reliability.
Drone Killer 6 is capable to jam most frequently used commercial drones frequencies. We configured this jammer with one simple idea - to give the opportunity to the owner of this device to make sure that if any remote controlled aircraft is flying within the jamming radius of Drone Killer 6 - this UAV will be fully disabled.
That would be the most popular configuration against drones:
1) 433MHz 20W (remote controls)
2) 868-912MHz 25 W (remote controls)
3) 2400-2500MHz 20W (WiFi 11.b,g & Bluetooth)
4) 1227MHz 15W (GPS L2)
5) 1570-1620MHz 40W (GPS L1 + GLONAS L1)
6) 5.8GHz 2.0W (WiFi 11.a)
However, we can also configure the jammer to fully disable GPS L5 or simply increase the jamming power of 2.4GHz.
Total output power is around 120W-130W which will make the jamming range to be around 300-600 meters.
The power and radius of each antenna/frequency can be manually adjusted from MAX to 0 (OFF).
*Please note that Jammer Store offers a fully bespoke service to all our customers. It basically means that Dron Killer 6 jammer can be customized based on your requirements. It means that if you, for instance, don't need to jam GPS L2 and would like to increase the power of 2.4GHz, we will be able to do it for you without any problems. Please send your inquiries to our email address.
Additional frequencies which can be used with this jammer: GPS L2 L3 L4 L5: 15W, VHF 130-180MHz: 20W, 300-400MHz: 20W, UHF 420-480MHz: 20W, LoJack 173MHz: 30W
Drone Killer 6 specifications:
Jamming radius: 300-600 meters

Total output power: 120W-130W

Jamming frequencies: Remote controls, GPS L1, L2, WIFI, Bluetooth, 5.8GHz

Cooling system: Inernal fan system prevent jammer from overheating

Power supply: AC110 or 220-240V /DC 27V

Dimension: 550 x 190 x 60mm

Weight: 10Kg
Package contents:

1pc Desktop Jammer
1pc AC 110 or 220V DC 12V or 27V 20A power supplier
6pcs Antennas Omni 500mm long
Additional antenna options:
- Directional External Patch Panel Antennas
- Omni car magnetic antenna bases
Power source additional order options:
- External battery that can work 1 hour ( 24V/20AH LiFePo4 ) + Charger
- DC 12V to AC 220V inverter 2000W, to use normal car battery DC 12/80-100AH


List of drones Drone Killer 6 can fully disable/jam:
Camera drones: DJI Phantom 4, DJI Phantom 3, DJI Inspire 1, Yuneec Q500 4K, Yuneec Typhoon H 4k, 3DR Solo, Parrot Bebop
Racing drones: TBS Vendetta, IRC Vortex 250 Pro, IRC Vortex 285, Lumenier QAV250, Eachine Racer 250 RTF
Toy Drones: Soma X5C, Hubsan X4, Blade Nano QX, LaTrax Alias, Parrot AR Drone 2, Proto X
Related Products